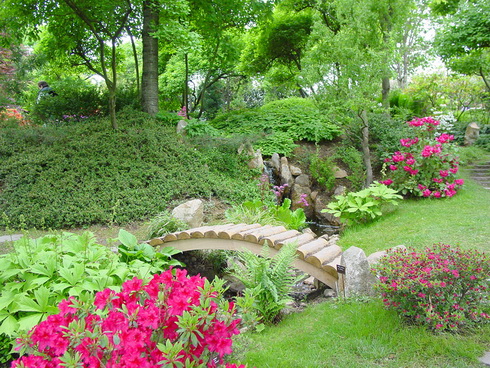 Ten simple advices how to create a flower garden of a simple care
In creation of your own garden many of us think, how difficult it is to take care of the garden, how much time it's going to take us to support and increase the beauty of created landscape. Certainly, no garden can be left absolutely without any care, but it's quite really to create a garden that needs the minimum attention and at the same time fascinates with its view.
We will give you a couple of advices about creation of a garden of a simple care. Some of recommendations of our landscape designers will seem to you simple and well-known, others can demand additional expenses and time at the moment of garden creation, but result is going to be not only a nice garden, but also a garden with possibility to have rest in it.
1.First advice. Perhaps, there is no such person who would not know, how much the fertile soil is important for plant's life. But do we always follow this simple rule at creation of our own garden? And meanwhile the fertile soil is practically a guarantee of beautiful plants. Healthy plants are less subjected to various diseases, they do not attract wreckers (or attract less, than weakened plants), and they need much more rare watering.
At the stage of planning of a garden it is necessary to analyze the soil existing on a site in order to correct its structure according to requirements of landed plants. It's possible to make such analysis in a laboratory getting the recommendation about improvement of soil structure. I further care of your garden you'll have to fill the soil with organic substances, for example, compost, for supporting the fertility of soil.
2.Second advice. Place plants  in groups according to their requirements to growth conditions. For any landscape composition it is possible to choose plants with similar requirements. Probably you have heard the phrase: « Everyone needs its own place». It is about plants, because competently placed plants will grow beautiful and healthy and will demand from you minimum care. Besides a concentration of plants with identical requirements considerably will reduce time spent for garden works. For example: if to land the hygrophilous plants t in one place of a garden, you won't have to walk here and there along your garden for a long time with a hose in your hands to provide daily watering to the plants who like water.
3.Third advice. Choose for garden design the plants that need minimal care. Certainly, each of us can have our favourite plants without which we cannot imagine our garden and of which we are ready to care all the time. But the basis of a landscape composition has to be plants which can take care of theirselves. For example, hosts, orpins - they keep decorative effect during all season and do not need any care.
4.Fourth advice. Try to use in garden design raised beds and plants in flowerpots and containers. It is much more easier to take care of a flower bed if it has strict borders. Landings in flowerpots and containers practically will discard you from weedings and struggle against weeds.
5.Fifth advice. It is very important to equip your garden with an automatic watering system. It can seem to many of you that this advice will cause additional expenses. However once spent money will discard you from everyday watering that takes a lot of time, and your plants will be always provided by the moisture that they need. The garden that suffers from lack of water, will never be able to show its full beauty – this is an indispensable condition for cultivation of beautiful and strong plants. So if you do not have time and desire to spend many hours in your garden with a hose in your hands, you have to think thoroughly about this question.
6.Sixth advice. Mulch the soil around your plants. Many gardeners consider that mulch is only an element of landscape decoration. Meanwhile mulch doesn't only make garden compositions more attractive, but also helps to maintain  the stable temperature of soil around the root system of plants, keeps the moisture (so you have to water plants less often), suppress the growth of weed plants and serves as a natural fertilizer. Thus, you will be able to save time, on watering, weeding and application of fertilizers.
7.Seventh advice. At creation of a garden in containers use special devices for controllable application of fertilizers in small doses - such simple devices can be bought in garden stores. The soil in containers is quickly dried up, therefore in order to avoid frequent watering it's better to add in a ground special water-retaining gel.
8.Eighth advice. Do not save money on garden stock and the tools. The convenient and ergonomic tools will considerably facilitate your work about taking care of your garden and will reduce time necessary for these works.
9.Ninth advice. A garden wheelbarrow – is your true assistant in garden works. With its help you can move and always have near you all the necessary garden tools, plants for change, reaped crop, oblique grass and chosen weeds.
10.Tenth advice. Involve children in garden works. Probably, some kinds of works will seem to them  little attractive - for example, weeding or removal of fade inflorescences. But landing of seeds, landing of plants, harvesting (especially!), and also bugs and caterpillars is will attract small fidgets in a garden. Certainly, with attraction of children you won't have less work in your garden, but a good company is quite capable to create such a feeling!
See also: Tips for Your Garden, Color Mood of a Garden