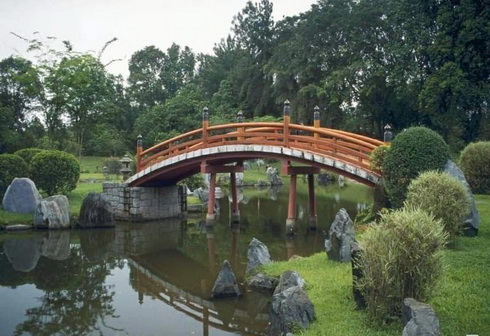 The epoch of French classicism in park art was marked by grandiose creations of Andre Lenotr. Before him the building of gardens was imitated to Italians. After creation of such remarkable creations like parks Tuileries, the Marlie, Saint-Cloud and especially Versailles all world has started to imitate his ideas. The ensembles of Lenotr created fine conditions of palace residences, brilliant scenery for palace celebrations. The architecture of his parks developed under regular laws, the laws of regular style. The regular kind assumes strict symmetry in a garden lay-out. They are characterized by straight lines, and strict axial composition. And now it is used where it is necessary to underline the human influence on nature, to bring in a composition the sensation of order, severity and solemnity. The emotional feature of the style – is elation, solemnity, the abundance of sculptures, theatricality.
The regular kind is magnificent. Wide direct avenues left in prospect, cut trees, ornamental flower beds on a lawn, bewitching by abundance of colours and shades. As A.E.Regel, wrote the most important line of regular style consists in, that «artificiality not only was exposed on the foreground, but necessarily superseded any naturalness. The garden formed the isolated world by high walls or a dense fence». And such type of order was considered extremely desirable and universal. Such point of view is supported with that fact that people feel pleasure at sensation of order. They assert that basically they give preference to order, rather than chaos, symmetry, rather than by asymmetries. Water was an important element of a regular garden: the strict form pools with fountains, cascades, wall fountains. With a low orchestra sharply contrasted bosquets – exactly cut in the form of walls trees and bushes. Skilful palace gardeners used them for creation in a garden a whole system of small "halls" and "offices", placing them along paths. But some ideas for certain can be used in your own garden. Perhaps, exactly this can become that highlight that your garden needs but doesn't have.
What can you learn in practice from the great gardeners of the past? For example, the registration of flower beds with the help of figure cut evergreen bushes. For one bush a couple of square meters is enough. Two or four bushes that are symmetrically located, can define the character of the whole garden. It looks perfectly if there is a bush In the centre of a bed, cut in the form of sphere, cone or other unusual form. The Evergreen landings can be shaded with white or coloured gravel or to recover them by blossoming plants. Such ideas are quite acceptable for our conditions. A cosy corner can become small semicircular niche with a bench a couple meters in diameter, separated from the house or street by an impenetrable green hedge or a three-leaved mirror-support for twisted plants.
See also: French Garden Pictures, French Garden Videos, The Italian Style, The Landscape Style, Japanese Garden
Share in: