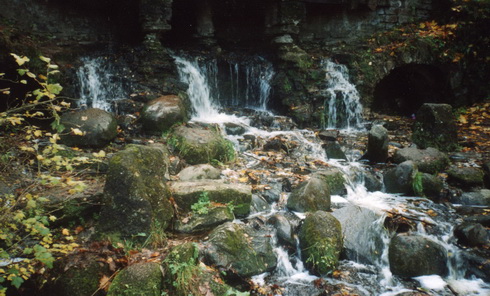 If the garden is big, and there are large structures, high old trees and the magnificent, strongly expanded bushes in it and the relief is expressed strongly enough, it is possible to arrange such variant of a stream, as the cascade. The big difference of height, a large fragmentary stones in decoration and the powerful pump will allow to create the cascade – falls. But it is necessary to understand that the noise of such stream will be rather essential component of the image. And not only in the daytime, but also at night. Though looking beautifully and attractively, such construction, won't suit for a small garden. Try to understand it at the designing stage, besides the cascade falls is not a cheap pleasure. To dismantle and alter it after you will get tired of persuasive noise, will be rather unpleasant.
As it was already told, the falls height, quantity of rifts and total length of such cascade, will be defined by the features of your site. I used to see high enough falls issued by brutal huge blocks which were settled on the flat space in the middle of the site. Even worse when the water stream is overthrown from a fence or the house wall. Your decision, if we are talking about the "natural" falls, should be motivated by the image of a surrounding landscape.
However the cascade, can have different modifications if the manor is made in the genre of any classical architectural style, and if there are a lot of stones and in paved surfaces in its decoration, the cascade should be regular. This image originates from cascades in the Italian palaces which were erected on slopes, therefore its structure and a decor should be similar to the corresponding style. Unlike the natural falls the architectural cascade is symmetric, all its links are identical and are settle down with a uniform rhythm on the whole length. Here the trump is not in naturalness, but in contrary, – in the demonstration of pathos design, selection of an effective decorative material corresponding to an overall picture. Most likely, such construction will not enter in the manor built in style of «a small house in the village». Though if to observe all the proportions and to use the fragments of wooden barrels or ceramic flat dishes, it is going to be a quite nice author's cascade under the motto «greetings from Thuringia» Why not?
Share in: